Shoreside is a collection of off grid huts with fantastic sea views offering you a unique and memorable camping holiday.
The huts are an inspired modern take on the fishing and beach huts that run along the Northumberland coast. They are the result of a collaborative project between the RIBA award winning architects Elliots, artist come joiner Adam Clarke and the Old School Gallery.
If you are looking for a wonderful stay on the Northumbrian coast with unrivalled access to Alnmouth beach, the huts are ideal camping accommodation.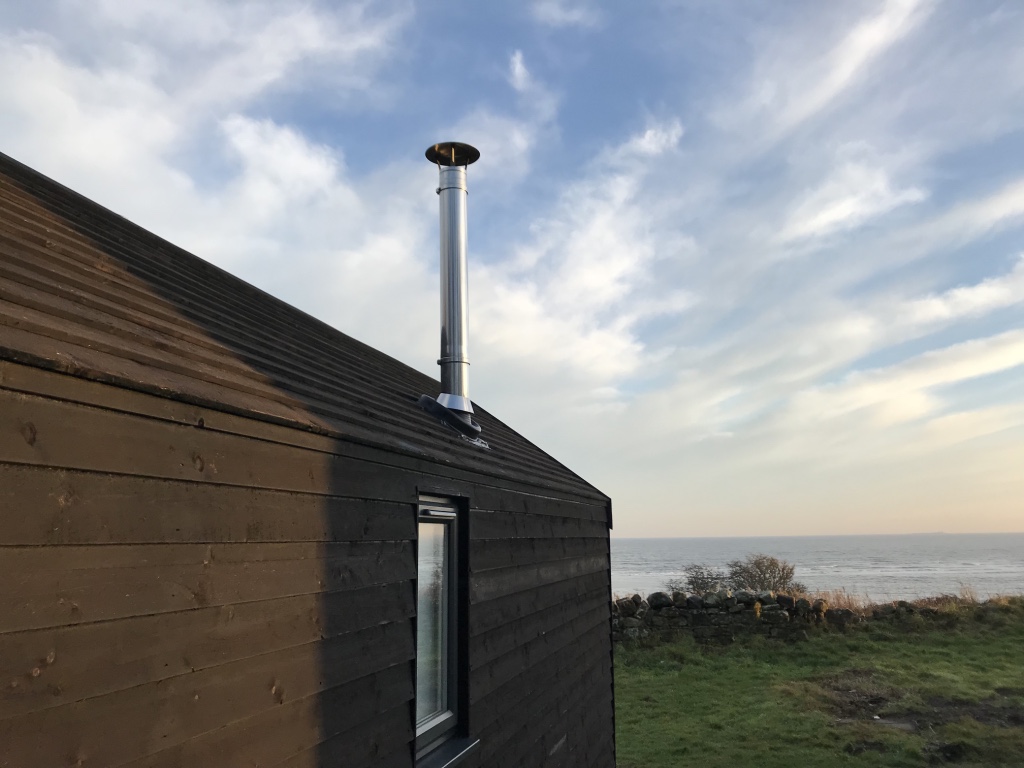 The camping huts sleep 2 people
Sofa bed available for small children (maximum of 2)
Dog friendly (St Aidan Hut)
Arrival time: 3pm
Departure time: 10am
£80 a night (minimum 2 nights stay)
Home Comforts
The camping huts are designed for you to rest and relax. You will be kept toasty warm as the huts are super insulated and you can enjoy using a wood burner for extra warmth. Each hut contains a comfortable double bed and sofa bed. There is a small kitchen, equipped with all the essentials for you to prepare breakfast and a simple meal. There is also separate wash room and toilet.
a Warm welcome
On arrival you will receive a welcome pack to ensure that you start your stay with a few essentials. It will include milk, coffee, bread, butter, a tipple and a few other camping treats. Wood is supplied and extra bags are available to purchase ( or you can find driftwood from the beach). You will also find lots of useful information about where to buy food and other essentials, along with local walks and places of interest.
Sleeping
Each hut has a double bed with all bedding provided. The sofa bed can be used for an extra person to stay or for two small children. All of our bedding is hypoallergenic.
facilities
The huts are completely off grid. Solar panels provide lighting and a refillable canister of water is attached under the sink to provide water for washing and cooking. The toilets are fully functioning, clean composting toilets.
Cooking
The kitchen has a two ring gas hob. Pots, pans and cooking essentials along with plates and cutlery are provided. You can use the fire pit outside for BBQs. Alnmouth has a fantastic deli and small shop just a 15 minute walk from the huts.
Outside
You will have your own seating area outside of the hut with table and chairs. The site is east facing and has fantastic sea views out to Coquet Island.
access & Parking
The site is located on the St Oswald's Way coastal path and just a short 10 minute walk from Alnmouth. There is no vehicle access or parking at the camp site.
The site runs along the coastal path and is not ideally suited to wheelchair users or for people with restricted mobility. We can help with transporting any bulkier or additional essentials that you might need, just let us know in advance.